Aquatech Diving & Marine Services is ready to get dirty for you.
Whether it's in sewage containment lagoons or pulp mill setting ponds, we've got you covered.
Our contaminated diving equipment is only used for contaminated water diving. It is thoroughly disinfected after each dive. Safety for our divers is paramount, so a minimum crew of 6 is committed to keeping the diver and the site safe.
› Designated Contaminated Equipment Only
› Minimum 6-Person Crew
› Best Available Dive Gear
› Safety Zones & Signage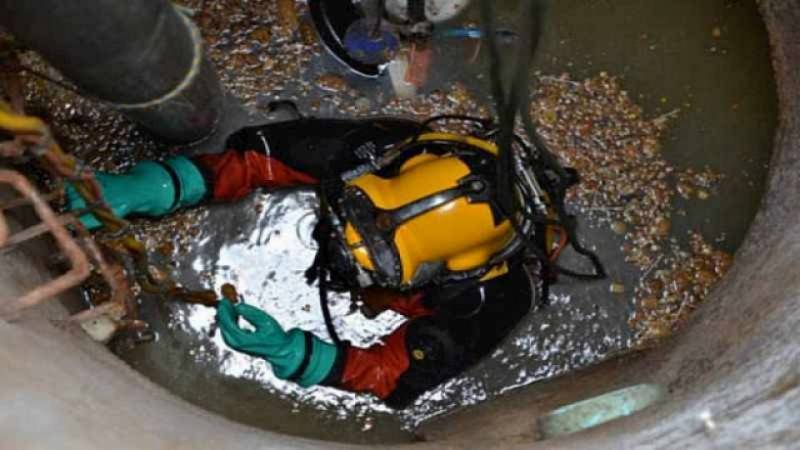 Contaminated Water Diving
Although our diving knowledge comes from decades of experience and training, Aquatech Diving & Marine Services Ltd. highly recognizes that diving in contaminated water is extremely hazardous and requires special training.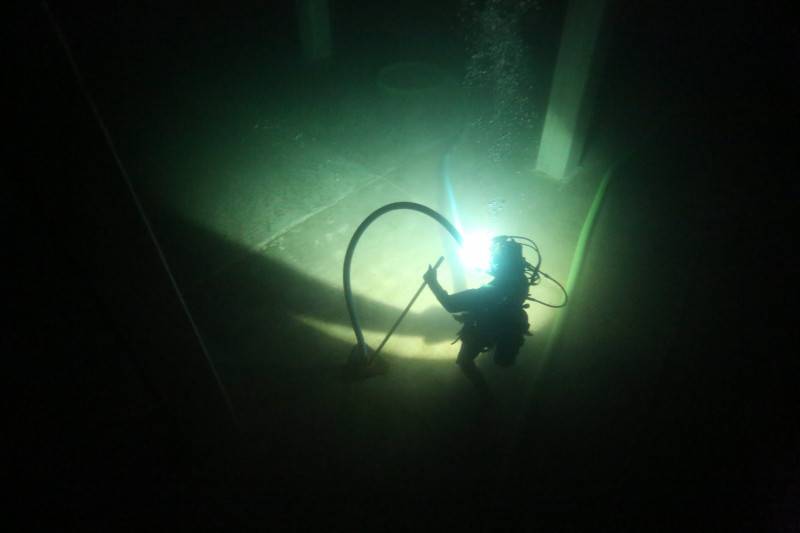 There is a need to access vital information about the job site and the elements the dive crew will be encountering.
The main questions asked are:
Will the diver be safe?
How long can a diver stay in contaminated water before his gear may fail?
What type of decontamination process will be used?
How do we ensure both the diver and equipment are thoroughly cleaned so no cross-contamination can occur?
Designated Contaminated Water Diving Equipment 
We have spent numerous hours consulting with suppliers and have had countless safety meetings with our highly trained dive crew to ensure they have been supplied with the best equipment to keep everyone safe during and after each job.
Only designated contaminated equipment is used by Aquatech Diving & Marine Services for each dive job when diving in:
Sewage-contaminated lagoons
Pulp mill settling ponds
Gas refineries
We Are Committed to Keeping the Diver Safe.
Contaminated Water Diving Procedures:
Our dive crew has a minimal six-man team.
Designated safety zones marked by signage and barriers so no one may enter the area that is not authorized.
2- 3 three-zone cleaning areas where the diver will be washed, scrubbed and rinsed along with the gear used.
After removal, consideration is taken regarding the demobilization process and packing of all the gear, tools and equipment used.
If necessary, items are subjected to additional decontamination or, worse case, disposed of properly.
Aquatech Diving & Marine Services Specializes in Black Water Diving.
Our specialized divers can locate and perform numerous water tasks relying on feel and touch through the orientation of blueprints, aerial pictures, or the location of a pipe, riser or flange. Wheater it's changing a valve, replacing an intake or installing a new pipe, every job is always done to the highest standards.
Certified Commercial Divers in Canada (DCBC Certified).

All our expert sewage divers have met all commercial divers standards under the Competency Standard set out by CSA Canada.
They hold a current Occupational Divers Certificate and certificates of medical fitness signed by a Physician of Diving Medicine.
Our divers also possess numerous other credentials including:
Confined space
Aerial lifts
High angle training
Commercial Boat Operating Certificates
Construction Safety Certificates
WHMIS and First Aid


Need Contaminated Water Diving Experts?
Contact us today for professional services!