Trusted Commercial Divers Servicing Western Canada.
Commercial Diving Services in Alberta, Saskatchewan, and British Columbia.
For nearly 30 years, Aquatech Diving & Marine Services has provided Western Canada with professional commercial diving services. Our expert divers have worked on projects in Alberta, Saskatchewan, British Columbia and the Northern Territories. Our team is highly experienced and ready to assist you with reservoir maintenance services, underwater construction projects, various topside support, and commercial dive services. Aquatech Diving & Marine Services is proud to assist businesses all over western Canada with our commercial dive services.
Commercial Diving Services:
DCBC Certified Dive Teams
With our DCBC certified dive teams, no underwater construction project is too big. We have fully stocked dive trucks and trailers, boats, barges, lifts and cranes. Aquatech Diving & Marine Services has become a respected leading service provider by adhering to Health and Safety's highest exceptions. Our divers have met all commercial diver standards under the Competency Standard set out by CSA Canada. Our crew members also hold the current Occupational Divers Certificate and certificates of medical fitness signed by a Physician of Diving Medicine, meaning our drivers are fully trained to complete your projects accurately and efficiently.
Our team comprises highly trained drivers with a specialized skill set—experienced in all aspects of the job.
We Work Year-Round
No Matter What The Conditions Or The Season Of The Year
Although the weather can change very rapidly in Alberta and the provinces surrounding us, Aquatech Diving & Marine Services is a year-round dive company. No matter what the conditions or the season of the year, our dive crew will facilitate the job at hand.
Experts in All Aspects of Underwater Hazards.
Our team is trained in both blackwater diving, where there is zero visibility, and ice diving, where the diver must work under the ice and dive in currents in rivers or large lakes.
We have experience working in all confined spaces and areas such as:
Gas Plants
Pulp Mills
Dams
Reservoirs
Lakes and Rivers.
Have An Intake To Inspect, Or A Pipeline To Install?
We've Got You Covered.
Whether you have an intake to inspect, a pipeline to install, or anything in between, Aquatech Diving & Marine Services Ltd can do it. Our divers draw on years of experience in commercial diving to help you with your underwater or surface projects.
You Need It? We've Got It.
If We Don't, We'll Get It.
We have various boats, equipment, and supplies to assist you with whatever project you have in mind.
Dive Boats
Barges
Jet Boats
Support Boats
Dredges
Dewatering Pumps
Lift Bags
Cranes
Backhoes
Underwater Cutting and Welding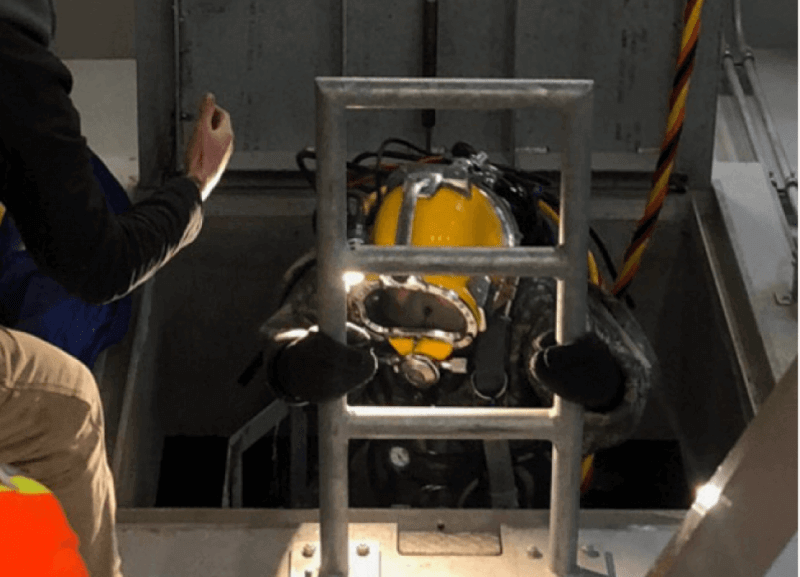 Need Our Help?
If you require professional commercial diving services, we've got you covered. Contact us today to get started!