Civil Dive & Marine Services in Alberta, Saskatchewan, and British Columbia.
Is it an intake you need to have inspected, or replaced? A pipeline to install or a line tied into an existing pipe, or a new dock at a lakeside resort?
Aquatech Diving & Marine Services can do it. Our highly trained certified commercial divers have performed numerous underwater pipeline installations, repairs and regular maintenance in Western Canada. Contact our team today for Civil Dive & Marine Services in Alberta, Saskatchewan, and British Columbia.
We can work on a variety of job sites, including:
Lakes
Rivers
Ponds
Industrial oil
Gas facilities
Whether you have an intake to inspect, a pipeline to install, or anything in between, Aquatech Diving & Marine Services Ltd can do it.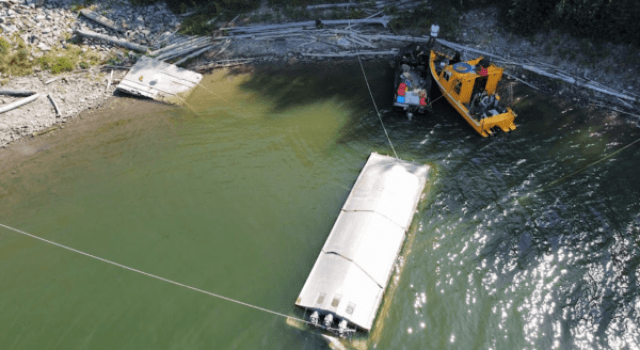 We have various boats, equipment, and supplies to assist you with whatever project you might have in mind.
Our divers draw on years of experience and tools, boats and supplies, including dive boats, barges, jet boats, support boats, dredges, dewatering pumps, lift bags, cranes, backhoes & Underwater cutting & welding equipment.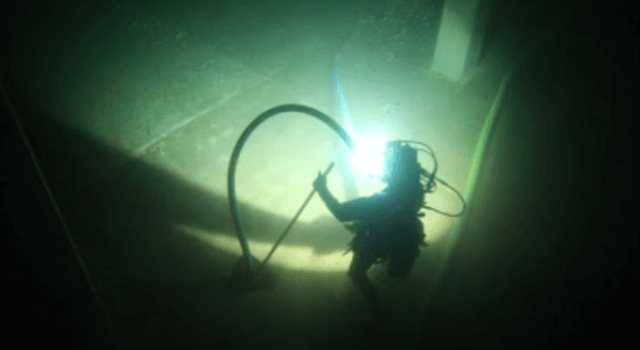 Our divers have worked in all types of confined spaces and we are experienced in all aspects of underwater hazards.
Our team specializes in Blackwater diving, where there is zero visibility. We also specialize in ice diving, where the diver must work under the ice and diving in currents, rivers or large lakes.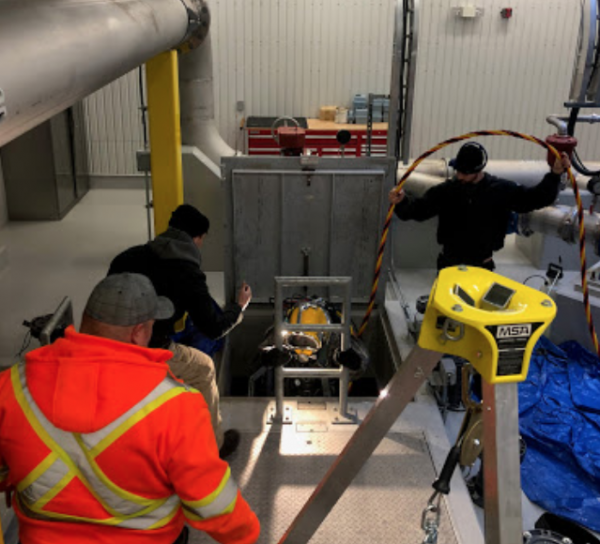 Whether it's a dam, a bridge, canal, or pipeline, our dive crew can facilitate everything from a diving inspection using HD video to underwater welding or cutting.
Our projects have included bolt-on valves and flanges, tie-in of pipes and intakes, cutting collected brush using a hydraulic chain saw, and welding & cutting.
Civil Dive Operations & Marine Services
Aquatech Diving & Marine Services is a fully mobile operation able to access almost any area. Our truck and trailer is fully equipped with the newest dive gear and equipment to keep our divers safe, and it also allows the divers access to the latest state of the art tools.
Drawing on numerous years of experience, our divers can handle all your underwater and surface needs. We have a diverse amount of support equipment to assist you with whatever your project might be.
Our Diving Inspection & Marine Services Equipment Includes:
Dive Boats
Barges
Jet Boats
Dredges
Lift Bags
Cranes and Backhoes
At Aquatech Diving & Marine Services we believe if it can be done on land, it can be done in water.
Safety Is Always First.
All members of our dive team are Certified Commercial Divers in Canada (DCBC Certified). Each has met all standards of a commercial diver under the Competency Standard set out by CSA Canada. They hold the current Occupational Divers Certificate and certificates of medical fitness signed by a Physician of Diving Medicine. Our dive crews are made up of a minimal 4-man crew and can accommodate up to a team of 6 if required. Our divers also possess numerous other certificates, including Commercial Boat Operating Certificates, Construction Safety Certificates, Whimis and First Aid.
Need Intake Inspection Or Underwater Pipeline Installation?
Get professional civil dive operations & marine services now.